Boghoppers cannot trust the Crusher mounts they ride to not attack them. They must constantly be aware of the Crushers target lest they be attacked themselves.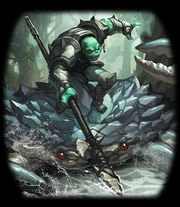 Stats
Basic Info

Damage: 8
Speed: 5
Range: 1
Defense: 3
Hit Points: 52
Nora Cost: 81


Faction: Forglar Swamp
Race: Arthropod
Race: Boghopper
Class: Knight
Size: 2x2
Expansion: Heritage
Artist: Andrew Hou
Note: Text above this line is updated by a bot and will be overwritten.
Pages which mention Swampguard CrusherTexto en negrita
Community content is available under
CC-BY-SA
unless otherwise noted.