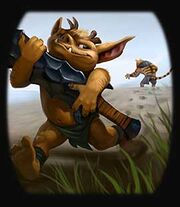 Description
The next opposing equipment played is instead equipped on a champion with a different owner. This effect is hidden until triggered. If there are no valid targets this spell fails.
| Nora Cost: | Expansion |
| --- | --- |
| 35 | Heroes of Maljara |
| Faction | Artist |
| | |
By providing a preemptive and permanent anti-equip, Pilfered Armory is an incredibly valuable asset. Because of its unlimited duration, it is considered a 'fire and forget' spell. Most battlegroups include at least one equip, so casting this spell whenever you happen to have it available will rarely be a complete waste.
Counter: If you know that your opponent has cast Pilfered Armory (either because he triggered Tempo/Spellswallower, or if you simply have a gift for prescience), you can deploy a beneficial equip on an enemy champion or a harmful equip on a friendly champion, to cause it to bounce to its intended target.
Some Equips are immune to the effects of Pilfered Armory. Relic-Equips (like Vicious Harpoon or Dragon God's Staff) will not be Pilfered and Race-specific Equips (like Demon Shield) will fail to be Pilfered if it would be stolen by a Champion without the required Race. These equips can be used to 'check' for PA much like cheap spells are used to check for Backfire.
Community content is available under
CC-BY-SA
unless otherwise noted.