Poxbox
Poxbox is a fanbase website for Poxnora.  It hosts an automated rune trader, and maintains it's own private economy.  Poxbox also boasts the most powerful rune database & Battle Group creation system available.
TCGbay is a trade service that uses store reps to fill trades. It also has it's own trade calculator so you can see what you can trade in and out.

Poxbase
Comparable to the database hosted at Poxbox.  Poxbase offers a fast intuitive, easy to use rune database.  This Fansite is recomended for new players.
Poxpulse
Poxpulse is an outdated rune database.  It offers services similar to that of Poxbase, including a list of all abilities.
                               ===Sepulcher's Poxnora youtube channel===
                                                       A channel full of nothing but poxnora commentaries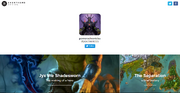 Poxnora Chronicles
                           A website with a collection of Poxnora lore and stories
Community content is available under
CC-BY-SA
unless otherwise noted.