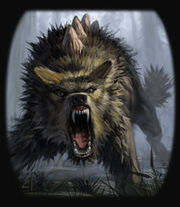 Beasts
are one of many
races
occupying the Poxnora universe.
Beasts
are found within all 8 factions, and are typicaly seen on their own, or combined with some other race.
Beasts
are typicaly
melee
units, and are largely restricted to Damage: Physical. Given their concept, champions from this race rarely have a Class, unless paired with a sentient race, like 
Dwarf
.
The Beast race does not grants a racial abillity.
RESERVED
Rune Interactions
Augment
The following Abilities, Spells, Relics, Equipment use the term Beast.
Table of all Undead
Augment
RESERVED
RESERVED
Future/Past Development
Augment
RESERVED
Pictures/Artwork
Augment
RESERVED
Community content is available under
CC-BY-SA
unless otherwise noted.