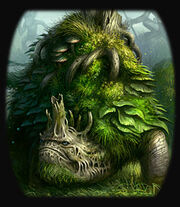 Stats
Comments
History
From the Drums of War Expansion this Rune has received little light from it's place in the shoebox. Even before the revamp the KF Community has been asking to have the Ambling Frond buffed w/ Detection of any rank.
An Old Rune "Quote" thread in the previous forums included this Champ w/ the pun "He was Frond of just Ambling around"
Rune Art is by: Jakub Kasper
Analysis
Recommended Builds: Shatter is not only a Must when upgrading, it's the only reason one would run this champion.
Ever since Ambling Frond gained the demi-god class, he also gained the Beast race. In a normal Beast BG, the Frond could go as high as 57 HP. This is the result of being 39 hp base, gaining 7 from Foment, 6 from Boost Beast and 5 from a Warbanner. This makes the rune exceed the 1:1 nora to HP ratio greatly.